REVIEWS: October 2023 Charlotte hosted two outdoor spring Autumn painting tours based in Otaru, Hokkaido, Japan. Here's what the guests had to say…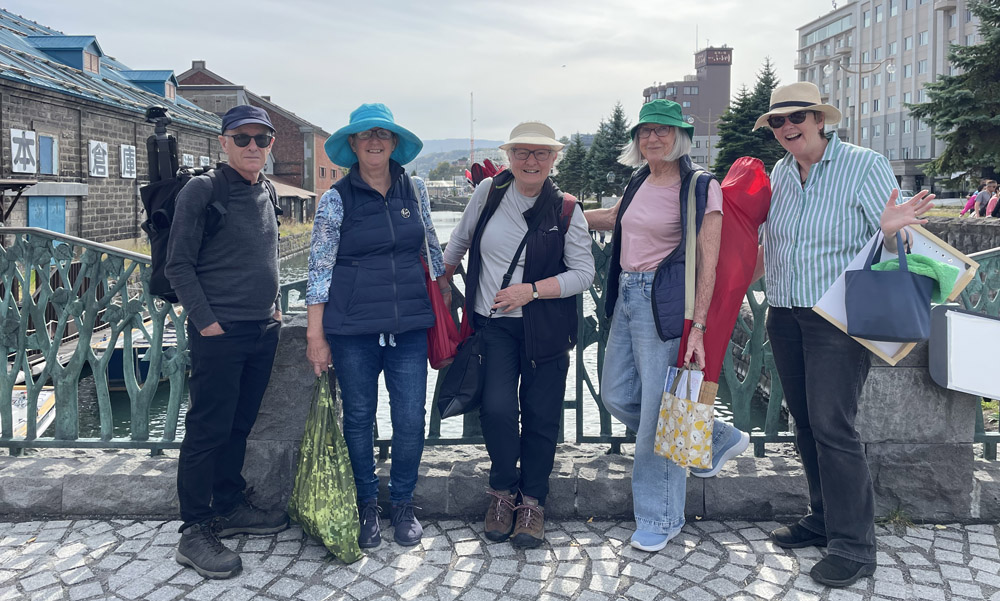 Alison says: Charlotte offers a wonderful opportunity to paint and stay with her and Dean in their traditional Japanese home in Otaru, Hokkaido. They are superb hosts and live in an area of great beauty. Each morning, Charlotte would demonstrate her watercolour approach to a scene in the location we were about to visit. Then we would be away in their van to a great variety of locations. They included a botanic garden, shrines, harbour, river and mountain views. The day trips were stunning with forests in their autumn colours; good for painters and the photographer in our small group. Charlotte is generous in sharing her watercolour skills and knowledge and included a trip to a great art supply store, with very competitive prices, in Sapporo. This trip is also a good introduction to travelling in Japan. Charlotte and Dean guided us through experiences like bathing at an onsen, sampling delicious food and even the intricacies of Japanese toilets! For skiers it is also a good introduction to several ski field areas. I thoroughly recommend this trip. Charlotte offers Spring and Autumn stays. Arigato gozaimasu Charlotte and Dean !
Kirsty said: "Water colour painters and partners were invited to enjoy a rich cultural experience painting Autumn colours in Hokkaido, Japan. Doesn't that sound great!
I was one of four staying at Charlotte and Dean's house in Otaru in mid October. Charlotte Hird, after 40 years of graphic design, now describes herself as artist/teacher/designer/optimist so it was a wonderful six days. Each day started with Charlotte demonstrating watercolour painting techniques before driving us to a site for the mornings painting session and after lunch at some interesting nearby eatery we'd go to another spot. This was sightseeing of the best sort, sitting and viewing, soaking up the scene and the atmosphere and painting as well as seeing all sorts of places and scenery on the way.
The Otaru Botanical gardens was a great place to start with some in ground bonsai trees (Niwaki) which instantly convey a Japanese feel. Then on down to a small boats harbour and views beyond as well as many black crows. On the way home we went to the Otaru version of our $2 shop but more like $1, but much more interesting. Our 'First night welcome dinner out' was their treat and from then on, we each paid for our own varied and special Japanese lunches and dinners except for the one delicious dinner at home that Dean cooked for us all. Each day Charlotte drove us far and wide to painting sites including the Otaru Canal and surrounding historic buildings, a Sapporo shrine with 25 red torii gates, Mt Yotei (a mini Fijiyama) which Charlotte drove us right round and an interesting modern house which echoed the triangular shape of the mountain behind. Each day was different with so much to see and enjoy. All in all it was a splendid experience.
Thank you so much Charlotte and Dean – best wishes for your next journeys.
John wrote: "As a non-painter, I had a very enjoyable time staying with Charlotte and Dean in Otaru. They both ensured we were all well looked after and guided. Transportation was excellent and I accompanied the painters each day. We visited a number of varied locations which enabled us to experience the surrounding area. As the autumn colours were out, these were available for painting in a number of locations. Each evening we went to a different eating place and experienced the available Japanese food, which was delicious."
REVIEWS: May 2023 Charlotte hosted two outdoor spring Sakura painting tours to Otaru, Hokkaido, Japan. Here's what the guests had to say…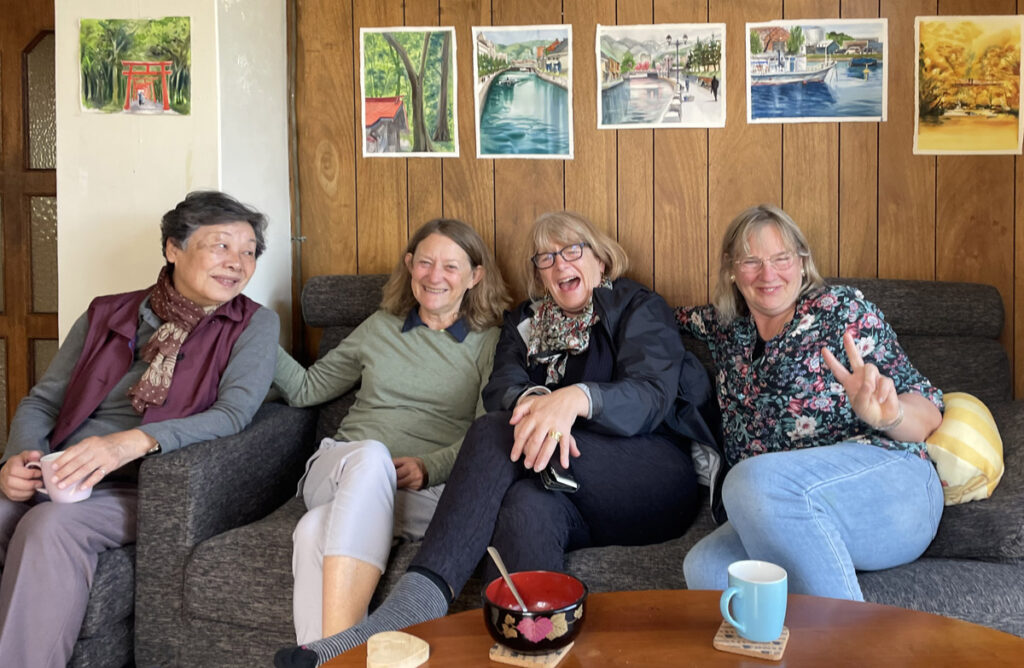 Dana said "Thanks so much Charlotte Hird for sharing this wonderful part of the world with us. What an adventure it's been. So many beautiful places to visit and paint. Extraordinarily delicious and strange things to eat and enjoy. Such a relaxing, interesting, fun holiday! Wonderful weather too. Lifetime memories to treasure…."
Maureen said "The week I spent with Charlotte in Otaru, Hokkaido, was exceptional in every way. Charlotte and Dean's house provided all the comforts of home in a cosy atmosphere. It was a pleasure to come back to relax after a full day's adventure of painting and sketching very different landscapes. Each day was filled with colour and surprises, from the buildings, flowers, trees, food or shopping. A never to be forgotten unique experience. Definitely "an up there", painting holiday.
Jenny says "Extraordinary : Thankyou Charlotte Hird! Best week to experience and enjoy Otaru and surroundings : Art, cuisine & cultural highlights! Greatest holiday: Scenery, escapism, painting and experiencing : watercolour tutorials and painting opportunities and Japan cuisine & cultural moments! Thanks #charlottehird"