artist, designer, teacher
Would you like to buy some great New Zealand art for your home? I have paintings in galleries and in exhibitions and plenty of stock both framed and unframed. I also take on commissions, so it you have a special scene you would like me to record, or require a present for a friend or family, please contact me to discuss.
Check out my Exhibitions, Watercolours and Teaching pages. Contact me for prices and delivery.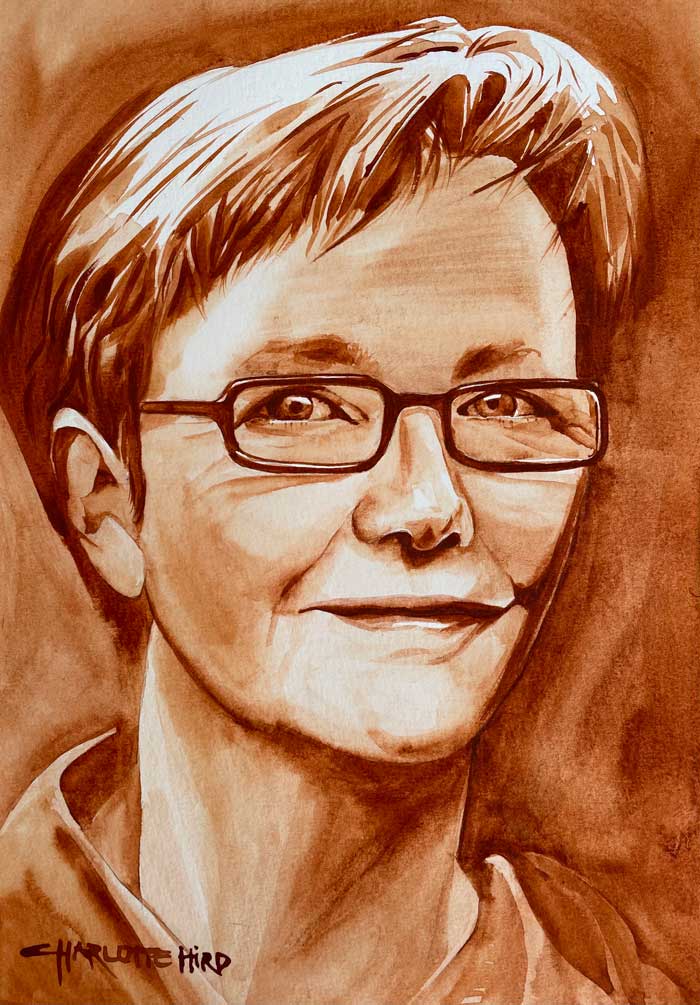 Selfie in burnt sienna by Charlotte Hird
I  love painting watercolours and teaching others to paint watercolour. Capturing the magic of light and colour in the medium is challenging and satisfying. Every stroke of the brush is exciting, every drop of water brings unexpected surprises. There is beauty everywhere I look, in the light on the planes of the face or dancing light on the surface of the water. My approach is contempory realist, but if you look closely you can see how stylised and graphic my work has become.
In 2018 I worked as an architectural drawing teacher in a Themed Environment Design degree course in Wuhan China for 18 months however on returning to NZ, after 40 year career as a Graphic Designer, I became a full time artist. I am President of the Wellington Art Club, committee member of Watercolour New Zealand and Elected member of the The New Zealand Academy of Fine Arts. I enjoy the community of working alongside other artists and sharing knowledge and techniques. I attend life drawing classes, portrait classes, artist workshops and plein air group events all over New Zealand.
I am teaching Watercolour Basics and advanced workshops, Plein air painting, portrait painting, and how to keep urban chickens. Check out the teaching page for 2023 teaching dates and venues.
I continue to experiment with different techniques and materials and am never short of inspiration. I am always thinking about how to mix a colour and how to compose a scene. It really is a great way to spend my time and brings peace of mind and contentment.
I exhibit my work at the New Zealand Academy of Fine Arts, Mitchell Studios and Kiwi Art House in Wellington.