I love painting watercolours. It is challenging and satisfying. Every stroke of the brush is exciting. Every drop of water brings unexpected surprises. There is beauty to capture everywhere I look. The light on the planes of the face or dancing on the water.
After 30 plus years of working as a graphic designer, and with the last 25 years on the computer, I had neglected my creative pursuits of drawing and painting. I joined the Wellington Art Club in 2010 and Watercolour New Zealand soon after. I have been soaking up all the knowledge I can find and continue to improve my skills and style. I attend life drawing, Friday portrait class at Wellington Art Club and many workshops and en plein air group events regularly when I am in Wellington. I have learned from some very generous teachers.
I exhibit my work at the Academy of Fine Arts, Watercolour NZ Kiwi Art House and ArtSpace Petone. I paint colourful backgrounds for CD's, book covers and brochures. I can paint your favourite scene as a commission or paint a portrait of a loved one. I paint Birthday cards for friends and family and have hand painted original water colour greeting cards which I sell for $10 each at Academy of Fine Arts, Kiwi Art House, ArtSpace Petone and RAL Whakapapa Shop at Top of the Bruce.
My life as a snow gypsy involves painting scenes of mountains, snow and skiers and travels around New Zealand and the world.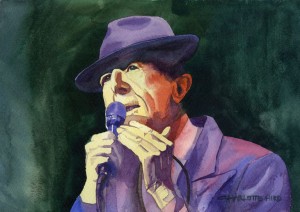 Leonard Cohen Original Water colour SOLD
A3 Prints for $50 each on photographic paper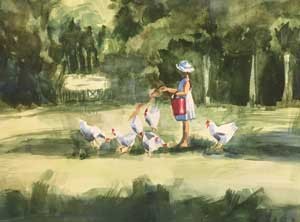 The Red Bucket SOLD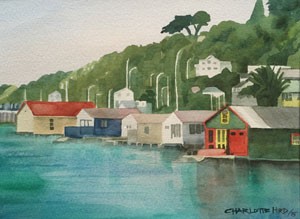 Evans Bay Boat Sheds SOLD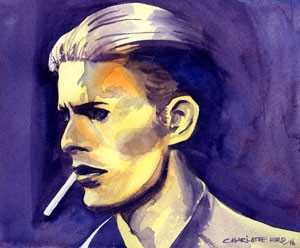 Thin White Duke SOLD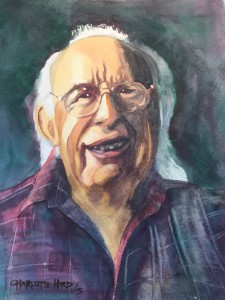 Bill McLaughlin NFS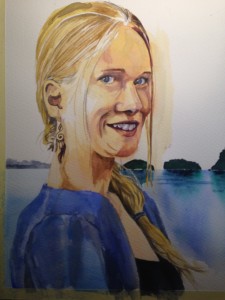 Golden Girl $300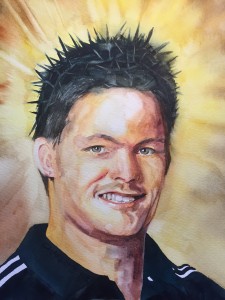 Saint Richie $300 framed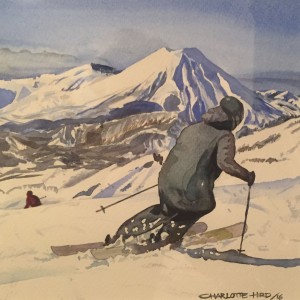 Ngauruhoe SOLD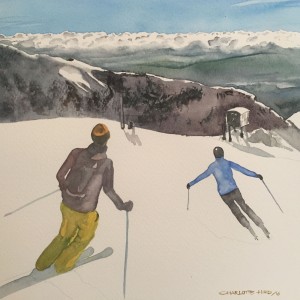 Delta Ridge NFS